By: Lauren Ellis, Senior Director of Programs
As I look with excitement and joy toward the start of the new school year in August, there are many aspects that I am eager about, including the priority to continue elevating programs that support our diverse learners. I am tremendously excited to further build on our fantastic program for English Language learners.
Typically, the terms English Learners (EL) or English Language Learners (ELL) are used when discussing scholars that do not yet have mastery of the English language. However, recently a term has been used more widely, one that we believe is more aligned with our beliefs as an organization and community. This term is Multilingual Learners (ML). Multilingual Learners not only acknowledges but celebrates the rich and diverse linguistic and cultural backgrounds with which scholars enter the classroom. The objective of our Multilingual Learners program is to help scholars learn English, not to replace their first language. Impact flourishes in an equity-driven culture; we develop the whole child and inspire our scholars to live full, connected, and purposeful lives.
For the 2021/2022 school year, Impact had 22% of scholars who identified as Multilingual Learners. Our program ensures that our ML scholars receive daily individualized instruction as well as small-group instruction focused on phonics and strategies in literacy training. On the 2021 Smarter Balanced Assessment results, Impact's Multilingual Learners were among the top 2% of English Learners across Washington state in both English and Math. These results are proof of our hard work and we are excited to enhance this program for next year!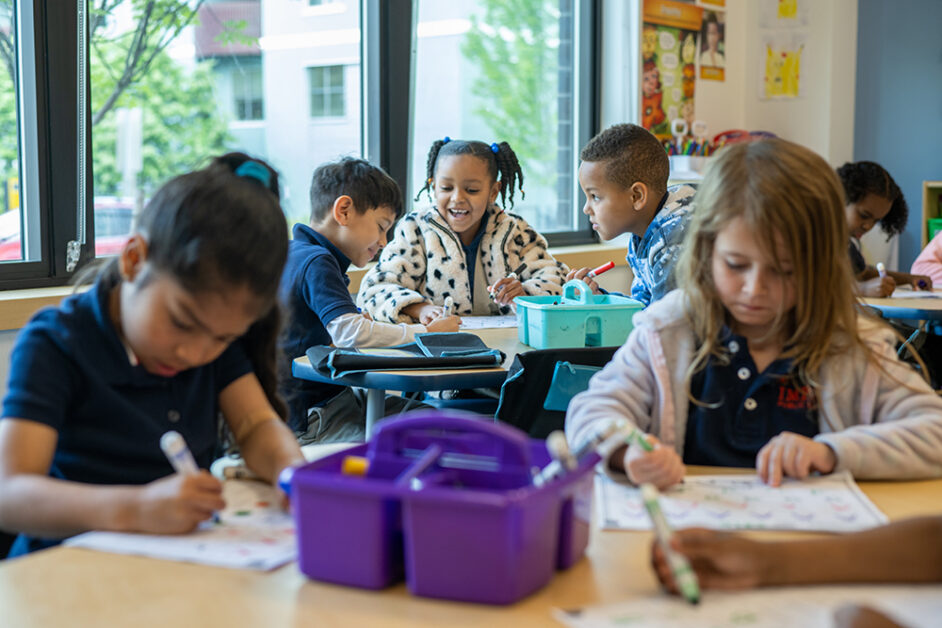 Our Multilingual Learners (ML) programmatic approach has ties to each of our Impact Core Values, but as we dive deeper into robust enhancements to our program, the alignment to three of these Core Values stand out:
Intention: In the tiny and the huge, we keep the end in mind and reflect on the potential effects of our choices.
Everyone Grows: We approach each day as an opportunity to learn and grow. We work hard towards our own just-right goals, cheering each other on as we redefine potential.
Brave Solidarity: Diversity strengthens and enlivens us. Dissatisfied yet optimistic, we bring a lens of equity and inclusion to each decision and each day.
Our approach to supporting Multilingual Learners is rooted in the belief that all scholars should receive "just-right" instruction that supports their individual learning needs; celebrates the diversity each scholar brings to the classroom; and establishes a high level of intentional planning to ensure high-quality instruction.
In order to support Multilingual Learners (ML) in our school communities, we have multiple strategies that equip leaders, teachers, scholars, and families.
Here is a high-level overview of our four primary strategies for the 2022/23 school year:
Strategy 1 – Strong professional development for faculty: In collaboration with City University (City U), all school-based faculty members will receive 10 hours of professional development that focuses on implementing research-based best practices to support Multilingual Learners (ML) in the classroom. These 10 hours of professional development can count towards a faculty member's coursework if they chose to pursue an English Language Learners (ELL) endorsement through City U. Impact faculty have the option to then enroll in City U to complete the remainder of this endorsement, at a specially discounted price! We're so excited to pilot this innovative and game-changing program; faculty growth and development is a high priority at Impact.
Strategy 2 – Curriculum alignment and support: Our curriculum team is doubling down on teacher training on best practices for engaging Multilingual learners, in all parts of learning, through activities that include reading, writing, listening, speaking, and movement. Teachers will also have specific coaching support from their manager that is connected to these practices.
Strategy 3 – Targeted instruction: On Mondays -Thursdays, in Kindergarten through fifth grade, all scholars will participate in an instructional block called What You Need (WYN) Time. During this time, scholars who require additional support in a given subject will receive small-group or 1:1 instruction. For scholars who are identified as needing additional Multilingual Learner support, they will receive instruction through adaptive software and/or small-group lessons. The curriculum used in our Transitional Kindergarten program is designed to support Multilingual Learners through experiential language acquisition.
Strategy 4 – Partnering directly with families: For scholars who are identified as needing additional services, there will be family events that will provide information about specific school-based support systems, ways families can support at home, and scholar progress!
In addition, the IPS team members who will be leading the design and implementation of the Multilingual Learners program will be trained in Project GLAD (Guided Language Acquisition Design), an instructional model that is research-based and highly regarded in education sectors providing Multilingual Learners supports. This training is invaluable and will strengthen our institutional knowledge and practice for years to come.
While historically we have seen our Multilingual Learner scholars outperform their peers in neighboring school districts, we believe that there is always more that we can do in order to ensure that our programs are rigorous and developmentally appropriate for all scholars. As this year progresses, I look forward to sharing these successes and learnings with you!