Warm and Welcoming Community
Every Impact team member is known, valued, and respected. We actively strive to build connections among teachers, leaders, and Home Office staff. 
Emphasis on Growth
One of our core values is "Everyone Grows." This isn't just a value for scholars - it applies to adults as well! Impact teachers receive regular 1:1 coaching from an instructional expert and collaborate weekly with grade-level team colleagues. Impact also supports Teaching Fellows in applying to and paying for a teacher certification program!
Unwavering Belief That All Scholars are Exceptional
Joining Impact means joining a diverse team that authentically believes in each and every child and their ability to thrive.
School-site employee benefits: 
Generous paid time off package: winter break, spring break, summer break, and Wellness Fridays

Up to $10,500 in financial support to enroll in a certification program with CityU

Special 15% discount on tuition for teacher certification programs at CityU

Medical, dental, vision, long term disability insurances

Retirement account with employer contributions 

Free mental health support + more through our Employee Assistance Program

Promotion pathways
Home Office employee benefits:
Generous PTO package, including major holidays, the week between Christmas and New Year's, the week of July 4, 18 flexible PTO days

Comprehensive benefits package, including medical, dental, vision, and long-term disability insurance

State retirement plan, with generous employer contributions

Access to Employee Assistance Program, which offers a suite of services including free counseling sessions

Professional development

Flexible working schedule
Hear from an Impact Teacher!
We are looking for people who believe in our mission and values and that all scholars deserve an exceptional educational experience.
Lead Teachers have teaching experience and a track record of strong student results. Lead Teachers hold certification in either Washington or another state.
Teaching Fellows do not need to have any experience working in schools! If you are excited to explore teaching as a career option, we want to talk to you!
School Leaders have experience as either a teacher leader, assistant principal, or principal. School leaders know how to drive their teams to accomplish goals and are masterful culture builders, excellent coaches, and experts in elementary instruction.
School Operations Staff  are highly organized critical thinkers, and have a deep dedication to Impact's mission.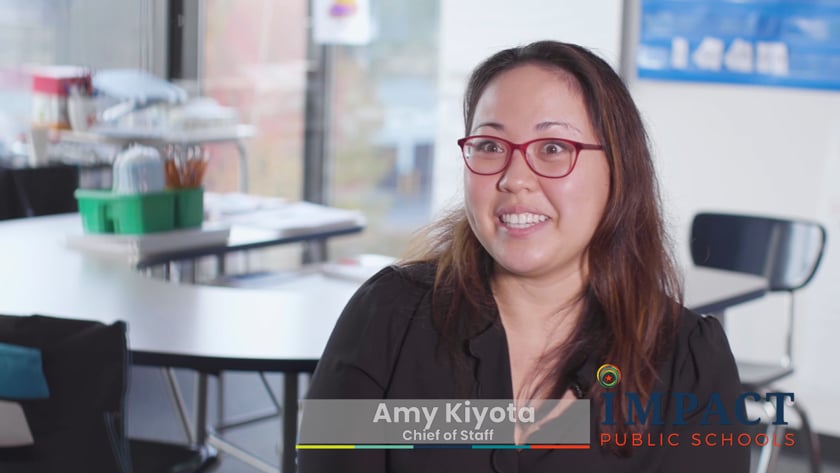 Impact Faculty Share Their Experiences
Our Commitment
Impact Public Schools is committed to inclusive and anti-bias hiring processes. We strive to build a mission-aligned team that reflects the diversity of our scholar community. 
The application process is as follows:
Submit a Resume
Go here and submit a resume and cover letter for the role you're interested in!
Step 2
Participate in a Phone Interview
Phone Interview
If your resume and cover letter meet our criteria, we'll schedule a phone screen in which we find out more about you!
Step 3
Attend a Simulation Interview
Attend a Simulation Interview
If you progress, you'll be invited to a simulation-based interview with pre-work! I.e.: a sample teaching lesson.
Get a Job Offer
Finally, we run references and have you fill out paperwork if you are offered the job!